Tent camping in Maine can be both exhilarating and stressful. Here at Jellystone Park™ Androscoggin Lake, we make it easy to enjoy your camping trip! With this guide, you will learn everything you need to know when planning your Maine tent camping trip. From recipe recommendations to the benefits of tent camping, this guide is sure to make your tent camping experience run a little smoother and make you feel more prepared!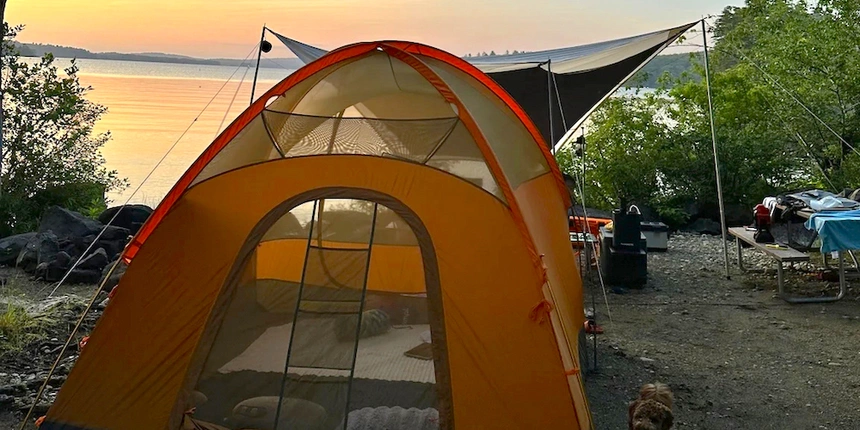 Benefits of Tent Camping
Tent camping is a fun and affordable way to spend time with family and friends. Not only does tent camping allow for quality time to unplug from technology and reconnect with nature, but it also helps to foster bonding and create memorable experiences with your loved ones. Whether you're working together to set up camp or gathering around the campfire to roast marshmallows, tent camping is a great way to enjoy a vacation together!
A Cheaper Alternative
Family vacations can be expensive - fortunately, tent camping tends to be cheaper than other accommodations. Tent camping at Jellystone Park™ Androscoggin Lake allows you to save the extra cash from the site, without skimping out on the fun. With our wide range of attractions for you and your family to enjoy, you'll be able to have a blast without breaking the bank!
Connect with Nature
Another benefit of tent camping is being able to connect with nature. Tent camping at Jellystone Park™ Androscoggin Lake offers a chance to breathe in the fresh air and sleep under the stars. Staying at our Maine campground brings you back to enjoying the simple things - like the sound of crickets at night and birds chirping in the morning. It's time to soak in the sunshine and vitamin D, and feel refreshed during your time away from your normal routine!
Take a Break from Technology
Tent camping at Jellystone Park™ Androscoggin Lake will also allow you to disconnect. By tent camping, you can step away from the emails and phone calls, giving you the break you need to unwind and unplug. Taking a step away from the screens and reconnecting with nature will allow you to return home feeling relaxed and rejuvenated. It's a win-win!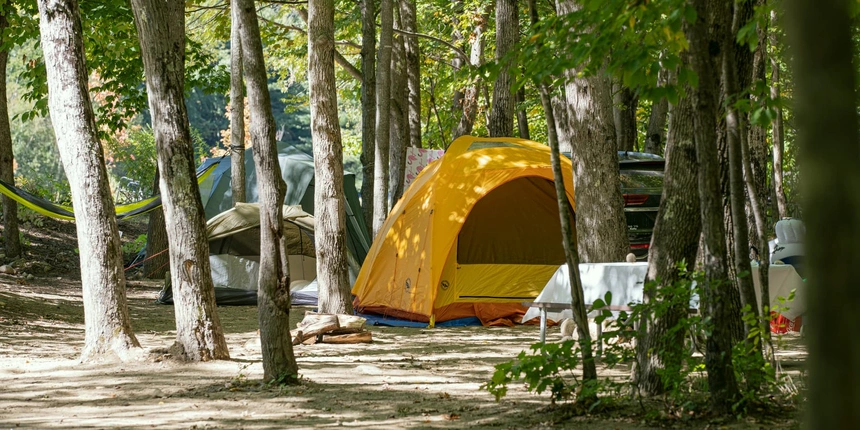 Choosing a Tent Site
Here at Jellystone Park™ Androscoggin Lake, our Rustic Tent Sites are a great choice for your next Maine tent camping adventure! Let's take a look at all our site has to offer.
Rustic Tent Site
Want to tent camp in the traditional way, without the added luxuries of our cabins? Then our Rustic Tent Sites are the site type for you! These sites offer the traditional feel of camping while still being only a short walk away from our Comfort Stations. Included in these sites are a picnic table and a fire ring.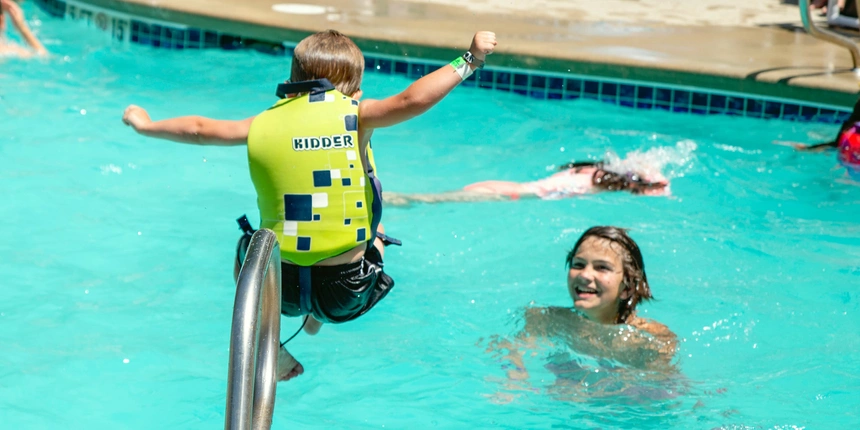 Take Advantage of our Attractions
After you've chosen your tent site for the ultimate Maine tent camping experience and have set up camp, it's time to take advantage of the numerous attractions and activities we have to offer! Our Maine campground has many things to do for both the kids and adults alike. From our huge water attractions like the Water Zone, to competitive games of pick-up basketball and mini golf, tent camping in Maine has more to offer when you stay at Jellystone Park™ Androscoggin Lake!
Included Attractions
While enjoying your stay, you and your family must check out the huge variety of included attractions and activities we have to offer! If you're looking to enjoy our water attractions, you can splash around at the splash pad, or cool off in the lake. Feeling competitive? Try our mini golf course or sports courts. If you're looking to try something a little more relaxing, our playgrounds, "Hey Hey" rides, fishing on the lake, and jumping pillow are for you. With so much to do, it'll be difficult knowing where to start!
Additional Attractions
Other attractions we offer can be accessed with a small fee. Attractions that are additional, but should still be given a try, include the arcade, Gem Mining, water rentals, and select arts & crafts. To make the most out of your stay, we recommend purchasing a Fun Pass! This add-on gives you instant access to all sorts of attractions that are otherwise not included in your stay - including some additional tasty treats!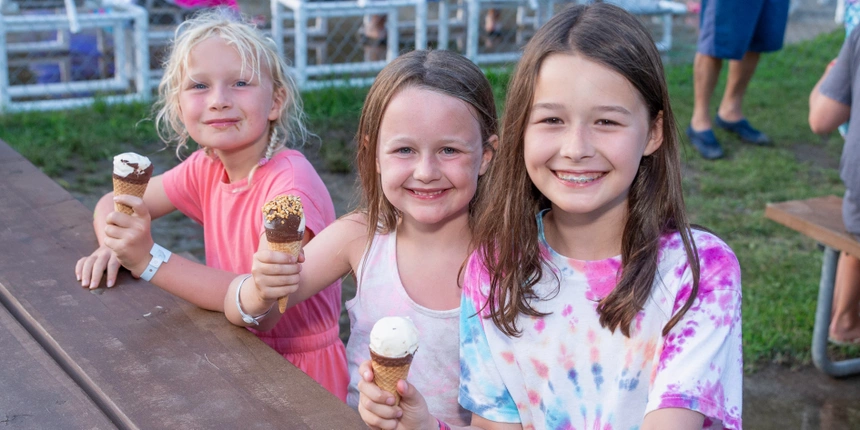 Enjoy On-Site Dining
After a long day of fun in the great outdoors, you'll likely find yourself needing to refuel. Fortunately, we've got you covered with our on-site dining options! We recommend checking out the Pic-A-Nic Basket Cafe - located next to our water attractions - where you'll find delicious wraps, burgers, and so much more! On the other hand, if you're looking to make something homemade at your campsite, we've outlined some yummy recipes you must try. Although burgers and hot dogs are a staple camping meal, Yogi Bear™ and Friends recommend these tasty bites:
Beef Taco Skillet
With a cast iron skillet and a campfire, anything is possible! Try changing things up a bit with this Beef Taco Skillet recipe. With some beef, beans, and sweet potatoes, this recipe will take your camp food to the next level.
Campfire Mac & Cheese
Left the cast iron at home by accident? No worries, this recipe doesn't need it! With a disposable aluminum pan, you can make this Campfire Mac & Cheese with ease. This super simple recipe is sure to be a crowd pleaser!
Campfire Donuts
Craving something sweet? Then these Campfire Donuts are for you! With a cast iron pan, some vegetable oil, biscuit dough, and sugar, these simple donuts take no time at all. For breakfast in the morning or a sweet treat to end the day, these donuts are sure to cure any sweet tooth!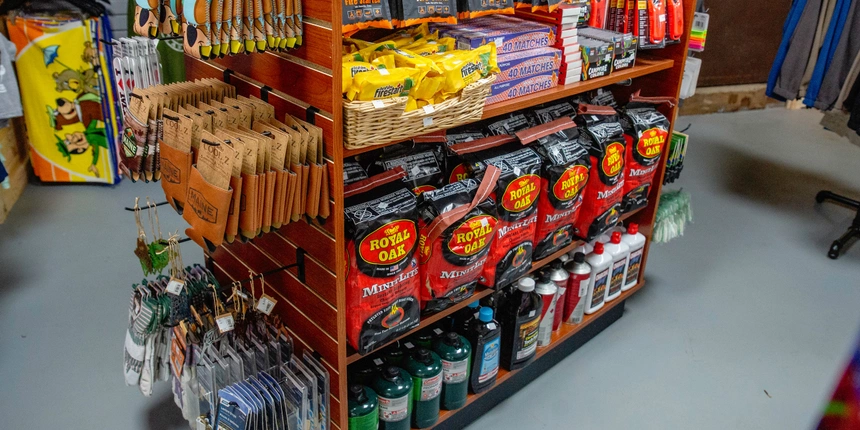 Tent Camping Policies & Procedures
Tent camping takes a little more preparation than when cabin or RV camping. We've outlined a few things you should keep in mind before embarking on your Maine tent camping trip.
On-Site Grocery Store
Regardless of the extra preparation, tent camping at Jellystone Park™ Androscoggin Lake is as stress-free as possible with the help of our Ranger Station! The Ranger Station is always freshly stocked to ensure that any essentials you may have forgotten to pack, we have! From select grocery items and ice, to bug spray and souvenirs, your Maine camping trip will be hassle-free and full of ease!
Pet Policy
While we have plenty of RV and cabin sites that can accommodate pets, we kindly ask that you leave your furry friends at home if you're planning to camp in a tent. This way you can focus on fun with the family without having to worry about your pet.
No Outside Firewood
Another important policy to note is the prohibition of outside firewood. State regulations prohibit the use of outside firewood in order to prevent the spread of the Emerald Ash Borer. But don't worry, firewood can be purchased at our Ranger Station, with the option of delivery to your campsite, ensuring that you can still enjoy a cozy campfire during your stay.
Tent camping in Maine can be stressful, but for those who want the traditional feel of camping without the stress and hassle of truly roughing it, Jellystone Park™ Androscoggin Lake is the campground for you. With tons of fun attractions to keep the day fun, as well as the Ranger Station and on-site dining options that will make your trip stress-free, Jellystone Park™ Androscoggin Lake is truly the best Maine campground for tent camping. Be sure to check out all of our tent site options before booking your stay - we hope to welcome you soon!